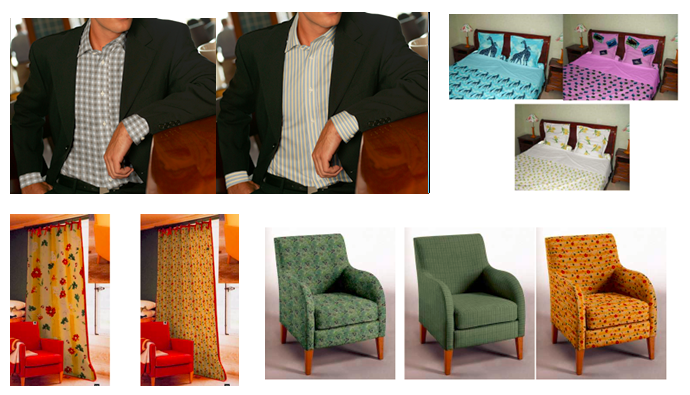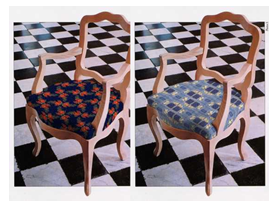 Mapping Modules
Highlight and promote your collection with the perfect rendering of YX DRESS Platinium "3D" mapping CAD software. Optimize your collection choices. Reduce your promotion and sales costs.
Mapping module allows you to design the fabric in the form of finished products visually presented in front of us, whether clothes, bags, sofas, rain gear and tents...
◆Create areas and distortion grids in a few minutes
· Define quickly the different mapping areas thanks to multiple intuitive tools.
· Generate easily and very precisely the 3D grids, in few minutes and associate them to one or several relevant segment areas.
· In few clicks all the grids can be edited and modified in order to fit perfectly the reality.
◆Pre-validate new design scale and repeat mode
·Before using dobby software, It is very important to preview the actual effect of the actual application of the finished product. The mapping software can import new designs (scanned patterns or pictures), redefine the size of the pattern, adjust the proportion of the pattern, set the repeat mode, and finally simulate the actual effect of applying the new design to the actual model. You can make an intuitive feasibility check before the concrete implementation of the product design project.
◆Real simulation reduce purchasing time and sales expenses
Display a true-to-life simulation of your new product, reduce purchasing time and cut sales expenses.Draw your models with 3D mapping of colors, designs or all kinds of fabrics like woven;Save time and avoid long meetings: your customer will immediately understand the great interest of your fabrics in his own product line.
◆Promote your collection better than ever before
With the 100% customizable commercial file-card creation module, you can adapt your printing and pictures exportation to each of your market, customers and brands.In a few seconds, you can print them, save them in PDF or in all the standard files format (JPEG, BMP, TIF…) and send them directly by e-mail to your partner.
Use them for easy creation of promotion tools like print catalogs, e-merchandising, web sites, exhibitions…. And reinforce your sales strength.The slide-show engine allows you to create video shows in executable format that you can distribute to your representatives, salesmen and customers or use during exhibitions as running videos.
◆ Cut sampling costs and save time
Virtual dressing will help you save time and money by avoiding costly sampling and photographs. Put the creation team at the core of your business and improve your sales efficiency. Be pro-active, increase you reactivity and consolidate your brand image with a quick and personalised answer to your customers' needs. Improve customer loyalty; Seduce new customers and help sales team to perform better and more easily by helping them to enhance your product presentation. Help them to make quicker and easier sales.
*Direct simulation exportation from our complete range of textile software Jacquard and Dobby weaving software.

Functions and features
Preparation functions
· Very quick and easy creation of contouring lines and distortion grids.
· Move, delete and modify the segment areas and grids effortlessly.
· Multi-grid management (copy, paste, move, multi-area management…)
· Intuitive and friendly interface.
· Import or scan directly the picture from the software
· Preservation of shadows, folds…
· Resize, rescale and change the repeat mode without effort
· Easy modification of the position for accurate setting
· Rotate your fabric to see the effect
· Put your fabric in repeat before using it
· Import easily a new model keeping the same segment areas and "3D" grids
· Adjust light, contrast…
· Transparency management
· Group some segments areas for a quicker mapping
Commercial and production utilities
· Customised technical and commercial file-cards with multiple export procedures as well as e-mailing (PDF, JPEG, BMP, PNG…) or picture exportation to all the current standard formats.
· Automatic slide-show creator and creation of self-running presentations
· Export catalogues of the complete fabrics collection or selected fabrics
Customers Benefits
◆ Improve your efficiency
· Pre-validate your new designs, fabrics and colorways before real sampling
◆ Enhance your sales performance thanks to new methods
and new opportunities for sales promotion and brand image improvement
· Create presentations perfectly suited to your brand image
· Highlight: print, export or send by e-mail your virtual mapping to snatch new orders
· Send self-executable slide-show presentations or use them during exhibitions
◆ Reduce your promotion costs
· Slash model sampling and photograph costs
◆ Improve customer loyalty
· Thanks to better pro-activity and reactivity, become the essential partner of your customer.
· Software support and service quality:
· Our aim is to provide the best quality of service because you are not only our customer, but our partner for the future